Biz 417's Think Summit 2022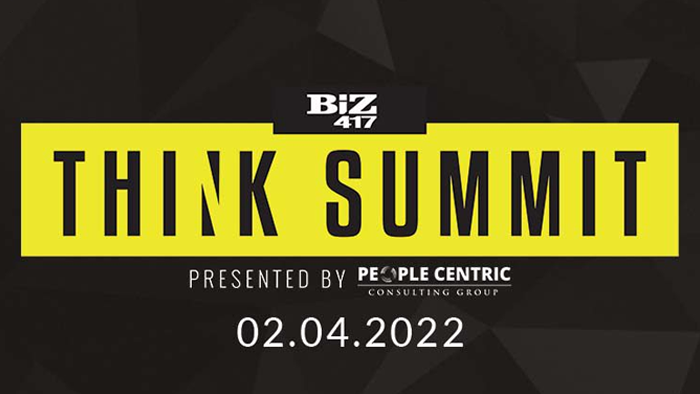 Event times
Friday, February 4, 2022 - 7:30 AM
Event details
Join the best local visionaries, creators, leaders, and founders for a day of thought-provoking presentations, networking and interactive participation designed to move our region forward. Biz 417's Think Summit presented by People Centric Consulting Group is a dynamic experience that breaks away from your typical business conference: live entertainment, charismatic speakers, food, co-working and a happy hour to end the day.
Surprises, goosebumps and inspiration guaranteed. It's time to experience Think Summit yourself.
CONVERSATIONS
Exchange insights, enhance your leadership skills and share challenges in the interactive lounges between talks. The doors open at 7:30 a.m., so arrive early to fuel your mind for an impactful day.

PROGRAMMING
Experience thought-provoking moments designed to push your career forward, and explore the big ideas that are propelling southwest Missouri's future. Our 2022 lineup is packed full of high-impact speakers.
COWORKING
Think Summit creates a unique atmosphere for you to fluidly move between absorbing inspiration, and down-time in mixed-use space for attendees to check email, take a conference call and to be part of the action.
DRINK SUMMIT
Complete the day by rubbing elbows with speakers and fellow attendees over drinks. Let the inspiration and ideas discussed throughout the day soak in while the drink and conversation flows.
Related links